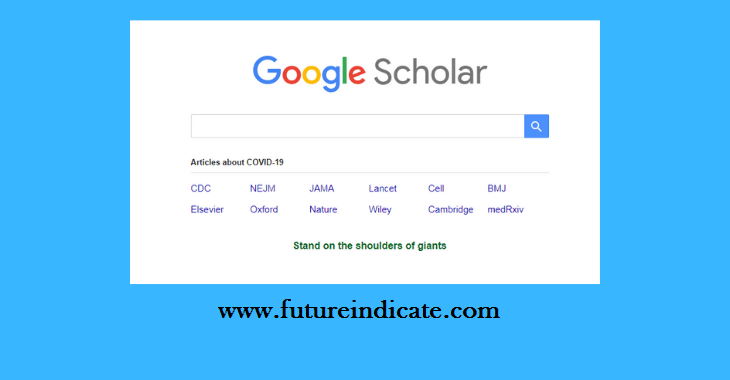 What is Google Scholar? & How does Google Scholar work?
What is Google Scholar? Google scholar is a Google-operated search engine that delivers the result for books, articles, academic publishers, trending court opinions, documents related to the universities and colleges, and other research materials.
Google scholar is a great platform for those who want to gather information about scholarly literature in the world.
With the help of this search engine, you can discover the content available across the world based on scholarly literature topics.
Read Also – What is SEO and How It Works in 2020?
Google Scholar search engine indexes the Metadata and full text of scholarly literature in the publishing formats and disciplines.
How does Google Scholar work?
Just like the Google Search Engine, Google Scholar uses Google bots which are Google's web-crawling robots to collect documents from the web, filter out the results, and make them available via the Google Scholar interface. For more information on Googlebot's see
Features of Google Scholar Search Engine
When you search a query in Google Scholar, you will get the right results as you see in the General Google SERP. Publisher name, author name, document category, releasing year including Meta title and description appears in the SERP.
If you want to pursue your career in digital marketing, join the Digital Marketing Course in Jaipur.
Sort by Relevance the additional feature under the set of features that can be used to define your query to get more relevant results.
Read Also – Advanced On-Page SEO Techniques 2020
I am making a list of major features and mentioning them below.
Show the complete document from the parent library.
Find a good article with the help of citations, publications, author names, and relevance
Google scholar is considered a convenient place to find out scholarly literature.
Do SEO for Google Scholar
Google and its parent search engines have become very popular in recent years due to their user-friendly, problem-solving, and accurate results. Also, search engine optimization techniques are considered reliable to get ranked a website.
You need to know Google is providing the results of the academic so SEO procedure is called here academic search engine optimization tactic (ASEO).
In ASEO, publication, creation, and modification of your scholarly literature must be optimized so that ranking algorithms can follow the webpage easily and index them.
These are some organizations, following the same ASEO strategies to strengthen the articles' indexing and performance.
Mendeley
Elsevier
Open Science
SAGE Publishing
Ranking Algorithm for Google Scholar
No specific Google algorithm for Google scholar.
Google works on citation counts and words count in the article title.
And this is the General thing that the first result in Google Scholar will appear with the highest citation numbers.
Read Also – How to Start a Career in Digital Marketing?
Google shows a high amount of words in Meta title and description tags by extracting the content from the articles.
Benefits of Google Scholar
According to the Google official, Google scholar is the world's largest academic search engine. Where everyone can grab the educational and research documented content.
This platform includes around 389 million documents based on in-depth research and a long list of citations.
Using Google scholar is the same process as you perform searches on Google.
Even the total citations and who cited an article can be found easily. You can bookmark an article to read it later.
I recommend Google Scholar for students who always need articles from universities and colleges. And Good thing is, the articles are issued and researched by professors.
Advantages for Students of Google Scholar
Create Online Library – Students can organize a library by saving the aspired articles, after some time, you will have a long list of helpful articles that can be distributed among the friends for help.
Create Alerts – you can generate alerts defining the categories. Whenever new articles, documents or an article will be cited, you will be notified by a notification mail.
Read Also – What is Digital Marketing And How it Works?
Citation Features – Google gives a citation feature for you to click on and get the list of who made the citation for a particular article. Also, this list can be imported into a word document within few clicks.
How to start researching in Google Scholar
Just click on this link and visit the official website. – Google Scholar
You will get a search box, type your queries, and press enter.
Read Also
Data Source- bloggingfrommoon