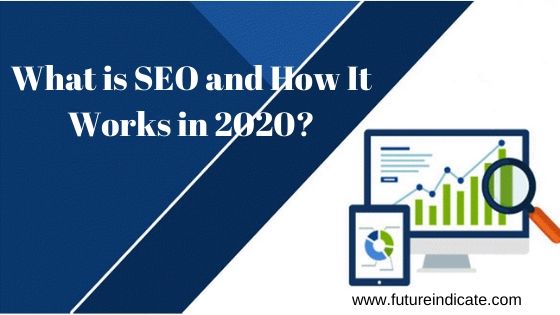 What is SEO and How It Works in 2020?
What is SEO?
What is SEO and How It Works in 2020?. As you already know, SEO stands for "Search Engine Optimization", the art of ranking high on search engines organically (i.e., unpaid). 
If No, Search engine optimization is the process of increasing the quality and quantity of website traffic by increasing the visibility of a website or a web page to users of a web search engine. SEO refers to the improvement of unpaid results and excludes direct traffic/visitors and the purchase of paid placement.
Within SEO, there are four big sectors. Let's dive into each.
On-Page SEO
Each year, Google makes thousands of changes to its algorithms. Data tells us that in 2018 alone, Google made 3,234 updates (i.e., nine per day). It's impossible to keep up with Google's frequent changes, coupled with changing user behavior. But one thing that will help you keep an upper hand is on-page SEO.
On-page SEO optimizes your webpages to rank higher and obtain more relevant traffic. One common on-page SEO practice is optimizing titles and meta descriptions. For example, if I search for "top home-based exercises", an article titled "At-Home Workouts", along with a description that repeats the same keywords, pops up first on Google.

It goes without saying that the page is well-optimized for search engines and earns relevant traffic, too. Not only the title and descriptions, but the entire content is well-optimized for search engines, as well as users.
Placing keywords within the content helps search engines and users understand the content faster. That doesn't mean you need to stuff keywords into your content; it simply means that you need to make your content relevant to user queries.
Technical SEO 
Technical SEO fixes the nuts and bolts of your website. It's apart of on-page SEO. It includes 404 errors, page speed, duplicate content, etc.
Page Speed: Studies have shown that users are quick to leave sites that take more than three seconds to load. Google's current guidelines favor websites that take three seconds or less to load content. So, speedier equals better for users and search engines.
Duplicate or Missing Content: Duplicate content means the same content is available from multiple URLs. Search engines can't decide which URL to display, and the problem gets worse when users start linking to different URLs with the same content. As a result, it harshly impacts your site's ranking, which leads to less traffic.
404 Errors or Broken Links: Another way to lose rankings and tons of traffic is to have broken links on your site. Many sources might be linking to your site, but if any of them are broken, you will lose traffic unknowingly.
The moral of technical SEO is to keep your site up-to-date and free from duplicate content and broken links.
Off-Page SEO
While on-page SEO is all about operating upfront; off-page SEO is like working behind the scenes. The results are still visible. Off-page SEO includes link-building, social promotion, guest blogging, writing promotional content to publish on other sites, etc.
Local SEO
Local SEO optimizes your business to attract local audiences.
The trend of "best things near me" is picking up the pace. Users are becoming addicted to asking Google to find the best services available nearby. According to HubSpot, 46% of Google searches are local. And Google is good at offering the best options, furnished with reviews, locations, and suggestions in its featured snippets.
Users don't even need to click the website link, as they get all the information available on SERPs. If you want to win over users without needing them to click, then local SEO must be a part of your entire marketing strategy.
How SEO Works, Exactly
Although the Search Engines are continuously refining how they rank web pages, there remain two key elements that are the foundation for successful Page 1 result…
Onsite – your content and website infrastructure

targeting the best keyword clusters

matching existing content to target specific keyword clusters

creating new content to target specific keyword clusters

having the best website infrastructure and architecture

Offsite – how your website is referred to from other online sources

developing a profile of high quality, relevant and on-theme incoming links from other "authority" web sites

having a relevant and active social media presence

creating citations (non-linking mentions) about you

at least half of your SEO outcomes are influenced by these Offsite elements outside your direct control, but still able to be influenced by your activities
Read Also – Advanced On-Page SEO Techniques 2020