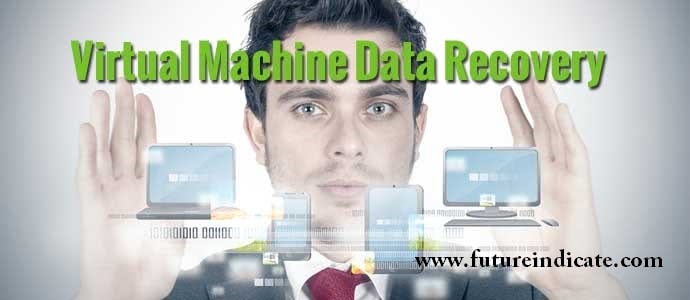 How to Retrieve Data from Virtual Machine?
Whenever the users have to restore the lost data from virtual or cloud-based resources, virtual machine may become an issue and make the data recovery difficult procedure. It may be because to manage plenty of data types at the same time is increasing the complexity of the procedure.
Although the virtual machine is providing many advantages to the organizations but making the IT environment of the company's highly complex. Luckily, few solutions have arrived in the market to retrieve data from virtual machines safely and instantly.
"Hello everyone, I am recently using VM. I have six months old vhd file, Which I mounted in Windows 8.1 to Windows 10 computer. It was working properly initially, but I don't know how few files are deleted from the Virtual machine. So, I want to know how to retrieve data from the virtual machine. If anyone knows then, please tell me How do I extract files from a virtual machine? "
Is it Possible to Retrieve Data from Virtual machine?
Well, although it has become difficult to recover files due to virtualization there are many applications available in the market which can assist you to recover files from the virtual machine. Few software makes the thing easier for the people you can recover your lost or accidentally deleted data in the best possible manner.
How to Retrieve Data from Virtual Machine With SysTools Software
If you are victim to any of the above-mentioned situations then here we have provided you an amazing utility for you to retrieve data from virtual machines. SysTools VHD Recovery Software which has come with the slogan that everything is restorable.
With this application, users can recover any type of lost data like deleted, corrupted, formatted, vhd or vhdx files. It assured you to recover shift deleted data from the VHDX file. After recovery deleted files are highlighted in red color. So that users can easily differentiate normal deleted or permanently deleted vhd or vhdx files in resultant data.
By using this software you can recover Dynamic or static VHDX files. For dynamic VHDX, it will support NTFS & FAT 32 and for static VHDX, it will support all types of the file systems.  This application is designed to restore deleted data files from VHD, including videos, images, database, archive and multimedia files, and folders.
In addition, the application also supports to retrieve formatted, corrupted & unhealthy Virtual Hard Drive file. It is easy to use anyone who can use this software whether he or she technical or non-technical background. It has a simple graphic user interface (GUI). The tool also provides free demo version but the demo version have some limitation. In the demo version, users can not save their files. If users want to save their files they have to purchase this utility.
Steps to Retrieve Data from Virtual Machine
Download and Install the Hyper-V VHD Recovery Tool on your Windows (10, 8, 7, and below version). After that Window will display as shown, simply click on the Open button.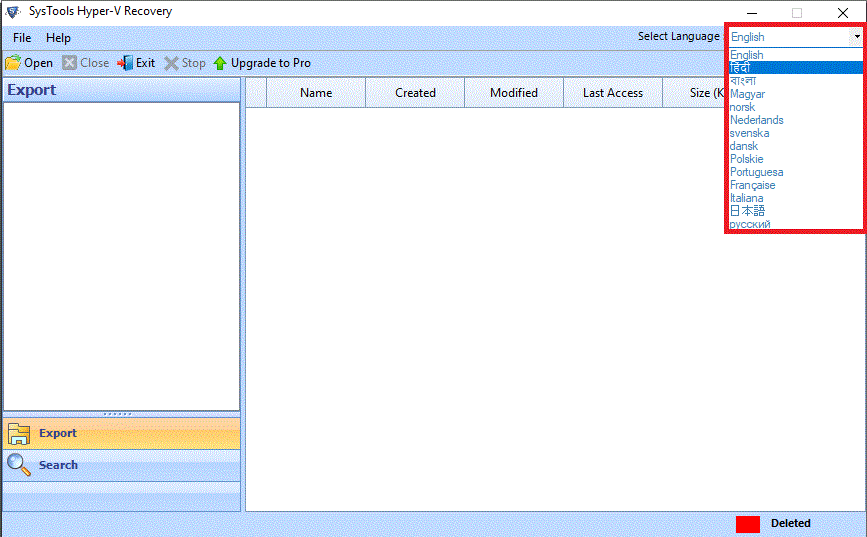 Now hit on the browse button and navigate to the destination where .vhd or .vhdx file saved. choose the vhd files and click on Open.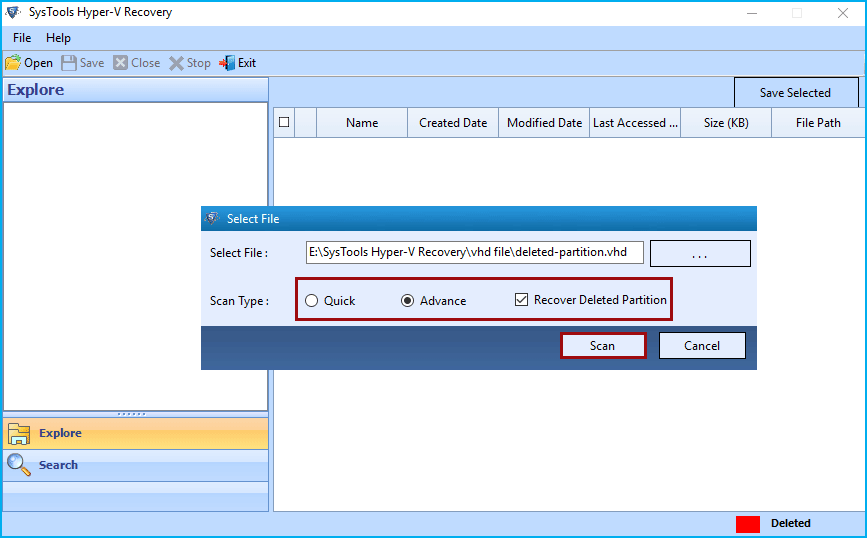 When completes the data recovery process, the software will list all restored folders into the Explore panel. Simply expand the folder and preview restored items easily.
Two options to Save retrieve VHD or VHDX file items. You can Save complete recovered files either selected data file.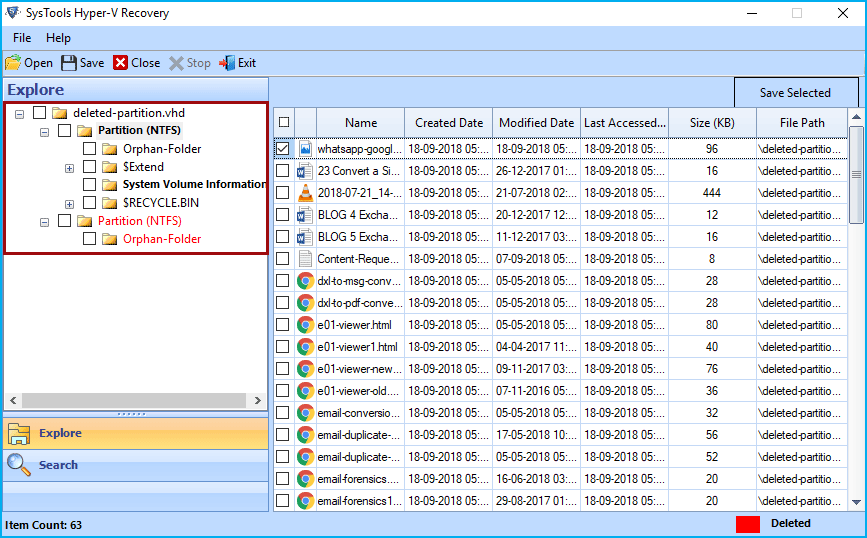 Prominent Features of Software
Assured data recovery from corrupt and lost VHD file partition
This software recover deleted file from VHDX partition
It is capable to recover datafile from formatted VHD and VHDX partition
Restore healthy VHD file data with the exact file name, type, size, etc. Without installing VM
This software supports to recover shift+deleted, formatted or re-formatted .vhd and vhdx partition data recovery
This software supports to recover and scan any size of VHD file without any file size limitation
It supports to recover the raw file from formatted VHD and VHDX partition
It has the capability to recover dynamic and static VHD or VHDX of FAT (16, 32) and NTFS file system
The best part of the software supports multiple languages setup installation
It is compatible with Windows Operating System. It supports to recover all version of Windows.
Well, there is no doubt that technology is making things simpler for us but it is also bringing exposures. Well, if you are using virtual machines to store your important data then you must keep the backup of your data on a regular basis. It is because keeping a regular backup of your data will assist you to avoid data loss on the virtual machine even if there has occurred any issues. It is because users can use the backup with ease in case if anything has gone wrong with the data on virtual machines.
 Conclusion
So, now you have understood how to retrieve data from the virtual machine. Virtualization has made things simpler but the structure of the It departments has become complicated than ever. Therefore,  it has become vital to look at the best existences to lower the loss of the files and folders on virtual machines. But if unluckily, you have missed some of your crucial data then users have to keep a solution in hand such as SysTools which can assist users to get your valuable data back within minutes.